I think it is very interesting that a group of Eye Doctors decided to take their business online.  You can buy your glasses online much less expensively using this online source that going to the local mall and getting a very expensive pair from one of the national distributors.
Also adds come out regularly that allow you to save even on these low priced glasses online.  You need to check back regularly for the latest discount offer that is being put out there.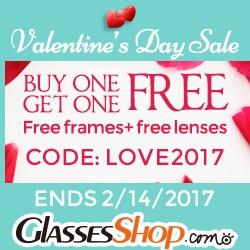 One thing that is very nice about this company is that you can afford to have two or three extra pairs in different styles so your glasses match your mood or your clothing and accessories.
I just got finished less than a year ago (and before I knew about these glasses) paying $750 for a pair of glasses.  They did offer two for one but that did not save me from spending more than I ever had on a pair of glasses.  On top of that I am less satisfied with this pair than my previous paid which was $250 dollars less.
I intend to try this as soon as I can justify getting another pair.  I am also considering a separate pair for my computer work.  I wear progressive lenses and am beginning to think I need to just get a single prescription pair for my computer and bifocals for everyday use. I have so much trouble getting the new pair focused in for the middle distance to be comfortable on my computer.  My back is often stressed because of moving forward to see.
You may want to take advantage of this offer because of the same reasons. Another problem is the need in about 3 years of changing prescriptions on my left eye for cataract problems. The eye doctor said I will have to have surgery for that issue in about three years.
These doctors state:
They are client-oriented and make your visual needs our first priority. Their culture of dedication to integrity and honesty allows you to shop with confidence.
–"Our company strives to ensure all clients will have the best possible customer experience."
– "Our frame sourcing and quality control protocols give you the best selection of glasses online anywhere."
– "Our Quality Assurance optical technicians inspect your eyeglasses extensively before they are delivered."
– We give a 90 day quality guarantee for our prescription eyeglasses, frames and sunglasses
– "Our international logistic centers allow us to provide the most stylish top quality eyeglasses at unbeatable prices to customers around the world. We are able to ship orders worldwide and service customers across the globe from our integrated, centralized international distribution center,  We have customers in more than 45 countries to whom we have delivered our quality eye wear."