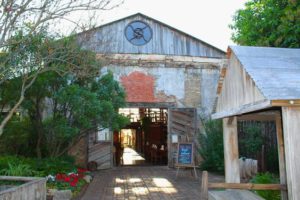 This is the Gristmill Restaurant in Gruene, Texas.  This is a corner of New Braunfels that is an original old settlement and a number of the buildings date back to the German settlement of the area.  Fabulous meals are the norm here.
This restaurant has on menu items and off menu specials.  We had an off menu special of baby back ribs and our sides were Gruene Beans with a special methods of cooking, and I had cold slaw. Their dressing for the cold slaw is wonderful.  My sister had mashed potatoes with gravy which is also very good.
I have had a pulled pork sandwich which my sister likes but it is a bit sweet for my taste so I do not want to repeat that one.  We went there once and had another off menu special and I cannot remember what it was right now, but we had the same sides and really enjoyed the meal a lot.
I would recommend the off menu specials most of the time. It seems they go out of their way to do those very well.
Going to the Gristmill for fabulous meals is a nice way to make an afternoon seem relaxed and special.
I would recommend having wine with the meal to make the wonderful effect of the meal last even longer.
Consider checking out our site for additional wine information and opportunities. The Texas hill country has many vineyards but we can get fabulous wines for you from around the world delivered to your door.  Just think one of the small elite vineyard might turn out to be a hill country vineyard.
Come on over online and think about a trip to the Texas hill country and surrounding area.