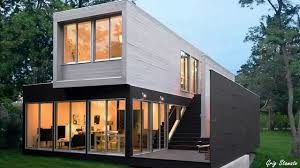 "Who Else Wants Simple Step-By-Step Plans To Design And Build A Container Home From Scratch?"
There are many things one has to consider when it comes to building a home from a shipping container. Searching various websites for guidance you may have already seen some methods or even plans, however many of the other Online guides leave out several very important steps.
You see, safety is a huge factor when building a container home. I mean, you're probably going to have friends and family living in your container at some point!  You want to consider their safety
And that's why you need to follow a guide you can trust. Not some dodgy You Tube video. You need a complete set of plans and explanations before you start on the project.
How to build a beautifully designed home using

shipping containers

.
What costly mistakes you

must avoid

so your project doesn't collapse like a house of cards!
The fastest way to get your project complete and livable.
Where money can be saved and where you need to invest those savings for the best results.
The cheapest way to build a container home

from start to finish

.
Hello my friend,
I'm a professional builder and have been using shipping containers in many various projects over the last 14 years. I'm also a designer, I can help you visualize an amazing container home thats also easy to build. Function and brilliant design are my main goals when taking on a new project.
I noticed about 5 years ago the interest in shipping container homes sky rocketed. This is because people are realizing the huge benefits to this method.  Affordability tops the list.
Afford-ability.

Building a container home is extremely cost effective. If you've already looked into the cost of new or second hand container you obviously know what I mean.

Design.

You can easily modify shipping container to create a modern sleek look.

Strength.

Shipping containers are build extremely strong with few weak points making them a great starting point.

Time.

Because the majority of the home is already built you can have a complete home built in record time.

Unique.

Even though container homes are on the rise they are still unique and will stand out from every other home.

Green.

Recycling an old shipping container and using it to build with is a great green idea and many other will see the important example you're setting.
Now it's time for me to bring your dream to reality. After all this time in the building industry I've been asked countless times to help others build their own container home.

I've always been worried about others doing work like this but after helping a few people I knew it was something I loved to do.
Finally after many years of experience, I have created a simple DIY guide to building a container home so you can enjoy the fun of production as well as the fun of living in a container home.
Since my reputation is on the line, I leave no stone un-turned! Here's how you're going to lean with my plans. You will start with going to the website that enplanes the plans and how to get them.  You will find the most up to date and comprehensive plans available.
 Please go to the site and get these plans and start your own home.